SYSCOM Wins 1st Place in "Taiwan-based Cloud Data Center Platform" Section at the 2014 Cloud Innovation Award
[November 03, 2014]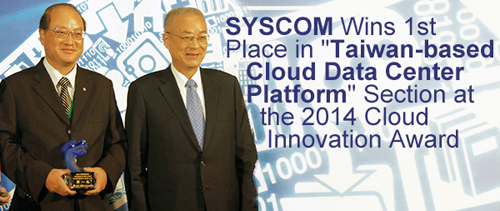 [2014/11/03] To keep pace with global cloud computing tide and to energize the application innovation of domestic cloud services, Cloud Computing Association in Taiwan and Taipei Computer Association together held 2014 Cloud Innovation Competition. SYSCOM Computer's Pracla, the operation service of enterprises'proprietary cloud computer centers, won the 1st Place in the "Taiwan-based Cloud Data Center Platform" section at the 2014 Cloud Innovation Competition. SYSCOM was honored again for its innovation and capabilities of cloud application and service. When the 2014 Cloud Innovation Award was granted to Mr. James Liu, representing SYSCOM, by Vice President Wu Tun-Yi in the award ceremony on October 27, 2014, it is visible clearly that SYSCOM has become one of the global cloud service providers with its cloud computing development capabilities.
Being one of the leading information service providers in Taiwan, SYSCOM has embarked the research and development of cloud computing application since 2009. SYSCOM's cloud integrated services and solutions were not only widely adopted by customers but also honored by many awards. They are SyscomCyberhood Cloud Service Platform, winning the 2012 Cloud Innovation Competition Award sponsored by Taiwan Cloud Computing Association; DBMaker CloudDB, being granted the 2014 Taiwan Excellence Award; Pracla, winning the 1st Place in the Taiwan-based Cloud Data Center Platform section at the 2014 Cloud Innovation Competition Award. SYSCOM has been well equipped for cloud computing application and services.
Pracla, the operation service of enterprises'proprietary cloud computer centers, originated from III cloud research center's CAFE software series as its core technology and was developed afterwards by SYSCOM for commercial use. Pracla costs little for implementation and can combine advantages of both pubic cloud and private cloud for easy use without a need of professional cloud techniques. Pracla is the perfect choice of cloud services to Taiwanese and Japanese enterprises.
Pracla's features:

Its automatic service is easy to use; no professional techniques are required for users to set up and manage companies'servers on virtualized facilities
Low monthly fee for proprietary virtualization infrastructure
Physical servers are safely stored and well managed in data centers; remote maintenance is available for ensuring data security and disaster resistance
It is collaborated with data center's services to provide functions such as disaster recovery and business continuation plan (DR/BCP), and services such as co-location, backup, file server, and remote backup, to fulfill enterprises' complicated needs with flexibility.
SYSCOM's Pracla service for enterprises'cloud computer centers has been well adopted in Japan and Taiwan. Under the New Taiwan-Japan-China Golden Triangle business model, Pracla, based on Taiwan's research & development power and CloudMaster's dedicated promotion channels in Japan, is definitely able to expand cloud services to global markets.