Taiwan-Japan cooperation Syscom gains another victory Computer Institute of Japan, Ltd. and Syscom Group signs cooperation agreements
[August 15, 2013]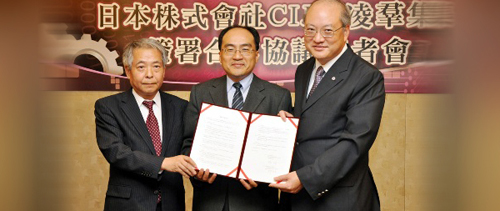 [2013/8/15] CISA in recent years implements the plan initiated by Industrial Development Bureau, improving quality of information softwares, vigorously promotes the software industry to expand the Japanese market, and advocates for the "New Golden Triangle Strategy". Those are all approved by industries in both Taiwan and Japan, and not only the Japanese media conducts studies to report with many pages, but also the Japanese software companies have the initiative to visit Taiwan to seek cooperation opportunities. Since CloudMaster Co., Ltd., a joint venture created by Tokia Group and Syscom Group, is formally established, CIJ (Computer Institute of Japan, Ltd.), a list company in Japan, also joined the system "new golden triangle", and collaborate with Syscom Group from commissioned development of CIJ's products and outsourcing projects, marketing and product services in the market of China and Southeast Asia, even to marketing cooperation in Japan of Taiwan's products, to gradually expand the business. In future, CIJ doesn't rule out the further comprehensive investment cooperation with Syscom Group. On August 15, CIJ's president Shiichi Hori and Syscom Group's general manager Ruilong Liu co-signs the agreement, witnessed by Zhenghua Lu, the deputy chief of Industrial Development Bureau.
CIJ, a listed company in Japan, was founded in 1976. Its main business is system development and related services, covering financial services, insurance, government, healthcare, and manufacturing industries. CIJ's group annual turnover is about 15.7 billion yen (about 5 billion Taiwan dollars) and capital is about 2.2 billion yen (about 8,000 million Taiwan dollars). The size of CIJ is similar to that of Syscom Group. CIJ's president MR.hori points out that the contacts experience in dealings between CIJ and Syscom Group has over 10 years, and a strong mutual trust and cooperation privity has been established, so decides to join the new golden triangle cooperation system and expand cooperation with Syscom Group.
The General Manager of Syscom Group Ruilong Liu says that the cooperation with CIJ mainly relies on working together experience in the Japanese market of DBMake developed by Syscom Group. CIJ is quite impressed by Syscom Group's capacity of software quality management, strong cloud development and product integration strength, developed under CMMI standards, so CIJ and Syscom Group will work together on information products, solutions, and other outsourced projects. The output value of entrusted matters value stands 1.2 billion yen, and CIJ plans to adopt co-marketing in China, Taiwan and Southeast Asia and provide after-sales service through Syscom Group. Meanwhile, Syscom Group can expand sales of domestic related products and Syscom Group's products, and actively implement the cooperation of the new golden triangle.
In the global economic downturn situation, the international alliance and cooperation will be more necessary. In addition to the continued support of the government's preferential policy, information service industry also hopes to establish Japanese supply chain relationship, not easy to cut in the past, in this contrarian, hone strength, and when the boom swings back, prepare strong energy, meet new market demands and create the next wave of industrial growth energy with manifold increased strength.
【Reference data】
Relevant information of CIJ (Computer Institute of Japan, Ltd.)

◎Found:January 7, 1976
◎Capital:2.2 billion 70 million yen (by the end of June, 2013)
◎Turnover:16.5 billion 21 million yen (by the end of June, 2013)
◎Time to market: List on JASDAQ, 2001
◎Head Office: Yokohama City, Kanagawa Prefecture
◎President & Representative Director: Shiichi Hori
◎Services: Systems development and related services
◎Areas of expertise: Development of finance, insurance, transportation, food, medical care, steel and packaged products' development and sale.
◎Number of employees: Approximately 1,600 people (in the whole group)
◎Representative clients: Hitachi, NTT Data, NEC, Toshiba Medical System, etc.
◎Representative products: the following products of which core is DBMaker-
1.SONOBA COMET (Tablet terminal system with a paperless meeting)
2.Ofigo (Document Management and Contract Management System)
3.FAX Server System (Environmental FAX system)
4 transplant services (Many languages and environmental transplant)