New era in Taiwan-Japan cooperation - Grand opening of CloudMaster Co., Ltd.
[April 25, 2013]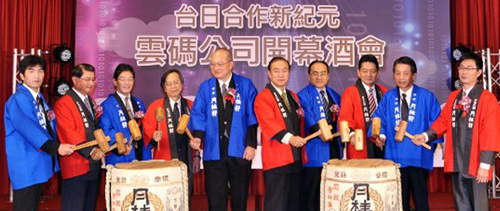 [2013/4/25] In February, the Syscom Group and Japan's Tokai Group jointly issued the company CloudMaster Co., Ltd. would be established, causing major repercussions both in Taiwan and Japan. On April 24, CloudMaster Co., Ltd. grandly inaugurates, witnessed by these heavyweight distinguished guests, Industrial Development Bureau, Institute for Information Industry (III), Information Service Industry Association of R.O.C (CISA), Cloud Computing Association in Taiwan and Interchange Association Japan (IAJ), who promote cooperation between Taiwan and Japan.
CloudMaster Co., Ltd., a joint venture locating in Taiwan and created by domestic famous Syscom Group and large-scale Japan Tokai Group, commits to using their advantages to promote close cooperation between Taiwan and Japan operations. It is not only a paragon of practicing the cooperation model "new golden triangle – Taiwan, Japan and China", but also a major achievement and milestones of the government promoting cooperation in the software industry between Taiwan and Japan.
Basing on software quality management capabilities chronically formed under CMMI Level 5, powerful cloud development and product integration capabilities, and the advantage that TOKAI-COM and Japanese seven IDC alliance infrastructure operations management, CloudMaster Co., Ltd. provides cloud services, healthcare, databases, electronic transmission, system integration services and can meet IT needs of Japanese-funded enterprise in the market of Japan, Taiwan and China. In future, CloudMaster Co., Ltd. will vigorously expand the pipeline that used to sell Taiwan's high-quality IT products to Japan in the way that either authorizing to TOKAI-COM or distributing products through Japanese corporate clients and Japanese seven IDC data center operators. TOKAI-COM plans to hand 20% of the Group's business over to CloudMaster Co., Ltd.. The Syscom Group and the Tokai Group form a mutual optimistic forecast that the company's turnover limit of CloudMaster Co., Ltd. till 2017 will reach 10 billion yen.
In the cloud services business development, the first heavyweight service introduced by CloudMaster Co., Ltd. is CAFE- Cloud Appliance for Enterprise which is developed by Institute for Information Industry (III) and win "2012 Outstanding global ICT industry Winner " of World Information Technology & Service Alliance (WITSA). CloudMaster Co., Ltd. promotes enterprises private cloud services that predominantly bases on CAFÉ architecture in Japan, receiving a highly responsive of Japanese companies, and then partnership opportunities will be launched.
In the global economic downturn situation, the international alliance and cooperation will be more necessary. In addition to the continued support of the government's preferential policy, CloudMaster Co., Ltd. also hopes to establish Japanese supply chain relationship, not easy to cut in the past, in this contrarian, create a blue ocean market, meet new market demands and create the next wave of industrial growth energy with manifold increased strength.