Activate Bank 3.0 and FinTech with digital collaboration platform
Author/Lin Yuxiang [Issue Date: 2016/4/5]
Perface
In the science and technology industry with its continuous development, we often think about what technology might look like in five years. With the opening of Taiwan's third-party payment and the continuous Bank3.0 and FinTech fever in recent years, we can imagine a time when we will pay for things using accounts steming from Facebook or Twitter communities or buy currency and funds via an ATM.
A common element to this science and technology is "real-time" and therefore the communications tool becomes very important. Cisco's digital collaboration platform is a very powerful tool for real-time communications.
Build self-service banks by informative digital advertisement board
Most of the banking business in Taiwan still relies on manpower, and therefore a larger space is needed to deal with business, so that a great deal of money is spent leasing or buying and then decorating these branches. Thus, the interactive digital billboard in FinTech field is able to improve service efficiency and integrate related businesses, such as deposits and withdrawals business, purchasing funds and insurance, bill pay, and purchasing call time. Cisco's interactive digital billboards provides interactive operations and media player functions, extends the integration and collaboration platform, integrates customer service officers backstage, adjusts real-time messages online according to individual needs, in order to help users quickly complete services. In addition, Cisco interactive digital billboards are helpful for effective use of the space, so that the required space will has a significant decrease from its original dozens of square meters to about just three square meters. Meanwhile banking services are provided as they had been normally. Considering this from the perspective of space, must the bank's business be done in a building? Perhaps, someday, we can withdraw cash at U-Bike hire stations.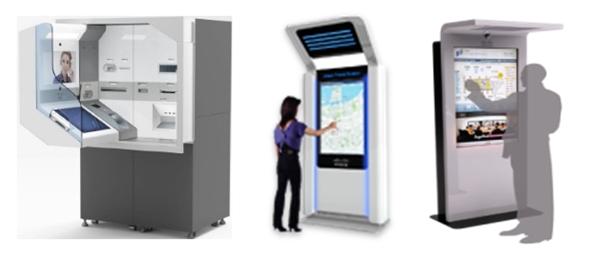 Collaborative communications platform as the cornerstone of Bank3.0
Since Bank3.0 is recommended by the FSC (Financial Supervisory Commission), its application is an issue that Taiwan has been thinking about during the past few years. However, with the opening of Taiwan's third-party payment, competitors confronting the bank are no longer limited to other banks, and companies with big data will become new competitors for banks because in the future these companies also can serve as banks. Thus, to bidirectional integrate big data companies and banks, Cisco's collaborative communications platform is an important cornerstone of building a complete Bank3.0.
Independent of communications platform before 2008, Cisco merged with Jabber, a communications software company, in 2009 as well as Tandberg, a video company, in 2012, launched webex, a private cloud solutions, in 2015 as well as a new series of voice and video hardware equipment which won the German Reddot design Award. Now Cisco uses CUCM (Cisco Unified Communication Manager) as the core of the collaboration platform, and vertically integrates text, voice and video communications, and horizontally combines communications software such as Cisco Jabber, Jabber Guest, and Webex with hardware like IP Phones, Video Phones and their Telepresence series, to completely build collaborative communications without borders. In addition, Cisco's collaboration platform provides a complete architecture for customer service centers in which customers enter the company's call center through diverse media access layers such as mobile phones, interactive digital signage, mobile devices, and web calls and each business is automatically assigned, therefore the company provides real-time and efficient services for customers thorough online real-time answers in writing or customers service interaction in the form of voice and video. As a result, we know that in the future big data companies and banks are not competitors, and Cisco collaboration platform will build a bridge of cooperation between them.
On the front-end, a big data company provides product sales data, which is combined with web call or instant message allowing consumers to immediately contact the customer service system and receive rapid service when needed. It greatly enhances the customer service experience as compared with the traditional way in which the consumer first must find a phone number to contact the customer service center. In the background, combined with CRM (Customer Relationship Management) the customer service center is able to easily get information about customer service and improve its efficiency.

Media products and information at your fingertips
Now science and technology are progressing, the way we send messages to customers has changed from the original paper text description to an image data presentation, such that the parts of the original text that are ill suited to clear explanation are better expressed with image data. In addition to video streaming services, the Cisco CXS (Capture-Transform-Share) solution uses hardware and software on terminals as the media for recorded products information and TCS (TelePresence Content Server) to provide real-time media streaming services and real-time online viewing. In addition, having recording capability, TCS combines the recordings and web to provide VoD (Video on Demand), so that the products are mediatised and customers are provided with fast and accurate service.

Conclusions
Cisco's digital coordination platform integrates communications, video conferencing, call center, media streaming and interactive digital billboard. This platform builds on the concept of enterprises' private communications cloud and provides a collaboration platform with zero time difference within a enterprise, saving time and money that was in the past spent on travel and facilitating communications with zero distance between enterprises; in services for enterprises, this platform includes text, voice, video, media services to provide new service model for enterprises and strengthens the integrities of customers' services. Following the demands of Bank3.0 and FinTech, in the foreseeable future finance will no longer just be finance but finance combined with science and technology. To respond to new technological service patterns, we need to create a new service model.
Reference Sources