New Generation Storage Devices - Nimble Storage
Author/LiWen You [Issue Date: 2014/12/1]
Preface
Nimble Storage is a new generation of storage devices, which is different from the concept of traditional hybrid storage. It specialises in providing smart flash storage solutions for the enterprise. Whether in the virtual data center or in a cloud architecture, it comprehensively meets the application efficiency and capacity requirements demanded by enterprises.
Nimble Storage is currently only released as CS series storage products, which is typical of the native-type hybrid array, and can mix with SSD and traditional hard drives. The smallest storage array capacity using mixed equipping is 160GB. The largest capacity is 3.2TB. Users also can extend the disk and Flash capacity by external extension cabinets or via a Scale-Out function, extending it to a maximum of four cluster groups.
Innovation
Nimble Storage has three very important storage innovations:
1. CASL™ (Cache Accelerated Sequential Layout Architecture)
Its architecture compresses the thousands of random I/O into the most appropriate size (4.5 mb) and then sequentially writes the data into a Near-Line SAS hard disk having only 7200 rpm. This creates amazing write performance. All data are fully protected by the protection mechanisms of Triple Parity RAID, stored in the high availability disk. At the same time, CASL™ copies hot data to flash, to provide fast data read performance, achieving on average more than 96% of the data reads from the high-speed flash source. Using advanced data retrieval technology, CASL™ also quickly accesses data not in flash from the hard disk.
Nimble Storage has broken the bottleneck of traditional performance improvement by increasing the hard disk, so that the effectiveness is no longer dependent on drive speed. This gives us a new generation storage device that has performance and capacity at the same time and is well-suited for virtual host environemnts, provides management software (e.g. vCenter, SCOM) integration with virtual hosts, works in virtual host environments (e.g., VMware vSphere, Microsoft Hyper-V, Citrix Xen Server, Oracle OVM) and with virtual desktop environments (e.g., VMware Horizon View, Citrix Xen App, Xen Desktop, Microsoft VDI). For popular application systems (e.g., Oracle 11g, MS SQL Server, MS Exchange Server, MS SharePoint) on the market, it is a clear improvement in performance and has significant benefits in real-time data protection and remote support.
2. InfoSight™ (auto cloud management and support systems)
Each Nimble Storage is equipped with more than 100 sensors for handling real-time equipment like health monitors. Every five minutes, it sends over ten thousand health sensor data elements to the cloud IDC room located at the company's headquarters in San Jose, CA. The health information transmitted includes access latency, IOPS, temperature, fan speed, voltage, utilization, capacity, performance and other state informaion.
Data is received by Nimble Storage with 100% reliability. Relying on advanced algorithms, we accurately and quickly obtain the device's health status . According to Nimble statistics, its high availability is supported in that we find that 92% of fault support relies on automatic user notification and 82% of the situations are automatically resolved without human intervention.
Based on the global usage, we see that its is up to 99.9997% availability. This is an SLA that other storage vendors can not compare with. Users can connect to the InfoSight cloud management platform with the device, and then obtain the historical effectiveness data related to the device. According to the data, they may obtain additional information, such as the current storage conditions, device space allocation and future capacity expansion options and so on. This allow users to accurately understand equipment usage substantially reducing the workload of system administrators and technical support personnel.
3. Scale-to-Fit (with the need to expand)
.Scale-Up
Can expand the Flash space online, and accelerate reading speed of Hot data. To improve the system performance, it can be carried out by upgrading the controller and without interruption to the data service.
.Scale-Deep
Based on capacity expansion or performance requirements, users can select a fully expanded All Flash Disk Shelf (12.8TB Flash) or Near-line SAS Disk Shelf, and without interrupting the ongoing data services.
.Scale-Out
Any number of Nimble Storage units may be combined to form a single stroage system that's capable of meeting user demand for storage space and performance requirements that excee those offered by a single storage system.This is a seamless performance and capacity expansion mode that effectively eliminates performance bottlenecks that occur with single storage controllers. Any waste of resources due to inability to integrate existing storage devices is eliminated. This results in better overall effectiveness of existing storage and better storage performance management.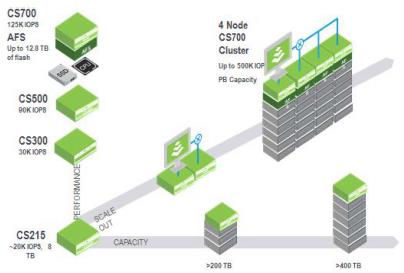 Conclusion
Nimble Storage is a very powerful storage systems supplier with high performance, high availability, and ease of use. It meets performance and flexible expansion space yet while simultaneously delivering a most cost-effective solution. This is backed by strategic partnerships with industry heaveweights like Cisco, Citrix, Vmware, Oracle, Microsoft, Commvault and SAP . Syscom Group believes that the Nimble Storage device has excellent potential that will soon show positive results in the Taiwan market.